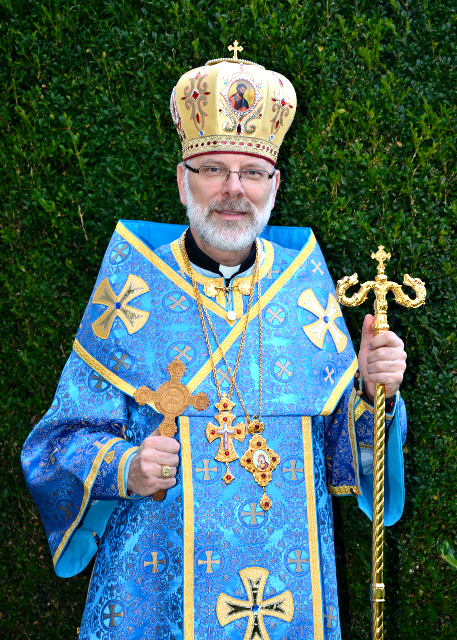 Bishop Ken (NOWAKOWSKI)
Eparch of New Westminster
BIOGRAPHICAL NOTES
May 16, 1958:            Born in North Battleford, Saskatchewan
August 19, 1989:      Ordained to the priesthood in the Ukrainian Catholic Eparchy of Saskatoon
June 1, 2007:             Appointed Ukrainian Eparchial Bishop of New Westminster
July 24, 2007:           Consecrated Bishop as Ukrainian Eparchial Bishop of New Westminster
STUDIES AND ACADEMIC DEGREES
: Entered the formation program at the Redeemer House of Studies in Toronto
1984 : Obtained a Bachelor of Religious Studies and Philosophy from St. Michael's College, University of Toronto
1989 : Obtained a Bachelor of Sacred Theology from the Pontifical University of St. Thomas Aquinas, Rome
1989 : Further studies in Eastern Canon Law, Rome
MINISTRY AND OTHER POSITIONS
: Founded and Directed the Ukrainian Catholic Refugee Office, Italy
1990-: Appointed vice-chancellor and chief of staff to His Beatitude Myroslav Ivan Cardinal Lubachivsky, Father and Head of the Ukrainian Catholic Church and Major Archbishop of Lviv of the Ukrainians
1991 – 1995: Appointed chief of staff in Lviv, Ukraine for his Beatitude Myroslav Ivan Cardinal Lubachivsky
1991 – 1992: Vice rector of Holy Spirit Seminary, Lviv
1994 – 2001: Founder and President of the Caritas Ukraine
2001 : Director of the Press Office of the Catholic Churches in the Ukraine during the visit of His Holiness Pope John Paul II to the Ukraine
2001 – 2007: Rector of Holy Spirit Ukrainian Catholic Seminary, Ottawa, ON
2002 – 2007: Appointed Press Officer/Spokesperson of the Ukrainian Catholic Church in Canada
2002 : Served as the Vatican Accredited Media Personnel Liaison and Assistant to Mr. Vic van Brantagem of the Press Office of the Holy See for Word Youth Day in Toronto
2006 – 2007: Chancellor of the Ukrainian Catholic Eparchy of Saskatoon
CCCB COMMISSIONS AND COMMITTEES
: Member of the Committee on Adult Catechesis
2011 – 2014 : Member of the Episcopal Commission for Christian Unity, Religious Relations with the Jews, and Interfaith Dialogue
2014 – : Member of the Standing Committee for Development and Peace
COMMISSIONS AND COMMITTEES OF THE SYNOD OF UKRAINIAN GREEK CATHOLIC BISHOPS AND PATRIARCHATE
2008 – 2012 : Member of the Property Committee of the Patriarchal Curia
2008 – 2015 : Head of the Patriarchal Commission for Clergy and priestly formation
2009 – : Member of the Patriarchal Committee for Pilgrimage Sites of the Patriarchate
2011 – : Head of the Working Group of the Pastoral Strategic Plan of the Ukrainian Greek Catholic Church "The Vibrant Parish"
2012 – : One of four members of the Ukrainian Greek Catholic Permanent Synod of Bishops
Bishop Ken Nowakowski's coat of arms is composed of a shield with its charges (symbols), a motto scroll, and external ornamentation.
The shield contains three triangular fields: a blue "V" descending from the top of the shield, flanked by a red field on the viewer's left and a gold field on the right. The cross with rays is the emblem of the Caritas organizations; its blue and gold colors are symbolic of the Bishop's Ukrainian heritage and his service as President of Caritas Ukraine. The white and gold colours represent the Roman Apostolic See which Bishop Nowakowski and the Eparchy of New Westminster are united to. The white and red represent the Canadian national colours. The dogwood blossom is the floral emblem of British Columbia, where the Eparchial See of New Westminster is located. The Western Red Lily is the floral emblem of Saskatchewan, where the Bishop was born; the gold field is taken from the provincial flag of Saskatchewan. The shield is placed on a purple episcopal mantle edged in ermine fur, crowned by a bishop's gold mitre with red lining.
The coat of arms is completed with external ornaments: a gold bishop's crozier and cross, placed in back of the mantle. The blue ribbon, placed below the shield, displays Bishop Nowakowski's motto in Ukrainian and Latin: God is Love. These words are taken from the Letter of St. John the Apostle, which summarizes the core of the Christian faith and the basis for all Christian action. Written in Ukrainian and Latin, the motto is meant to show the eucharistic communion the Ukrainian Catholic Church shares with the Holy See in Rome. This was also the motto of the second Eparch of New Westminster, Bishop Severian Yakymyshyn, OSBM, as well as the title of the first Apostolic Letter of His Holiness Benedict XVI: Deus Caritas Est.
The coat of arms was designed by Andriy Grechylo, President of the Ukrainian Heraldic Society; Lviv, Ukraine.
Герб Владики Кена Новаківського у своєму складі має щит із символікою, гасло і зовнішнє оздоблення.
Щит має три трикутні поля: блакитне V- подібне поле, що опускається від верху щита, межує з червоним полем ліворуч від глядача, а з золотим – праворуч.
Хрест з променями є емблемою організації Карітас; блакитний і золотий кольори символізують український спадок Владики та його працю на посаді Президента організації Карітас Україна. Білий та червоний представляють національні кольори Канади. Цвітіння кизилу – це квіткова емблема провінції Британська Колумбія, де міститься єпархіальний престіл Нью Вестмінстерської єпархії. Західна червона лілія – квіткова емблема провінції Саскачеван, де народився Владика; золоте тло перейняте з провінційного прапора Саскачевану.
Щит розташований на облямованій хутром горностая пурпуровій єпископській мантії, яка вінчається золотою єпископською мітрою з червоною оббивкою.  Герб довершується зовнішнім оздобленням: золотим єпископським жезлом і хрестом позаду мантії.
На блакитній стрічці під щитом міститься гасло Владики Новаківського українською та латинською мовами: Бог є Любов. Ці слова взяті з Послання Св. Ап. Івана, і вони підсумовують суть християнської віри та основу всієї діяльності християн. Написане українською та латинською мовами, гасло призначене вказувати на євхаристійну єдність Української Католицької Церкви з Римським Апостольським Престолом. Воно також було гаслом другого Епарха Нью Вестмінстера, Владики Северіяна Якимишина, ЧСВВ, так само як і заголовком першого Апостольського Послання Його Святості Бенедикта XVI: Deus Caritas Est.
Дизайн герба розробив Андрій Гречило – Президент Українського Геральдичного Товариства; Львів, Україна