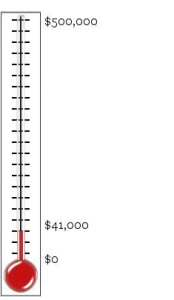 To the Faithful of the Eparchy of New Westminster
3 February 2016
Glory to Jesus Christ!
Dear Friends,
I wanted to write to you and let you know how our Eparchial Fund Raising Campaign "Share Your Heart" is coming along.  We launched this initiative just a little more than two months ago.  I have some wonderful news to share with you.   Through your generosity, we have passed $41,000 of dedication and love!  I want to thank those of you who have already contributed and I want to encourage our Faithful to make your donation as soon as possible.  Jesus taught us in several of his parables that sharing our time, talent and treasure are at the very core of being his disciples.
In my letter to you dated 25 November 2016 I appealed to you for your support to continue the pastoral care of our faithful and to reach out to those in our communities and let them know about the Good News that our Church proclaims – the news of Salvation through personal relationship with Our Lord and Saviour Jesus Christ!  We set as our financial goal a sum of $500,000. I realize that that seems like a large amount.  In this letter to you, I want to highlight in this letter how we use our funds in the eparchy through three examples.
We need funds to continue to support our seminary, especially our own seminarian Mykhailo Ozorovych, whom many of you know.  I am very proud of his academic accomplishments since he became a seminarian in our Eparchy.  He has almost consistently achieved "A" in his academic grades at the Metropolitan Andrey Sheptytsky Institute at Saint Paul University in Ottawa.  His formators and professors have advised me many times how dedicated he is to preparing himself for ordained pastoral ministry in our Eparchy and Mykhailo has often expressed to me his profound gratitude for your prayers, love and support.   By our support of his formation today we are ensuring high quality pastoral care for years to come in our Eparchy.
Over the last year we have brought two wonderful priests into our Eparchy from Ukraine.  This is primarily because the young men of our Eparchy have not felt God's call to serve our communities as priests.  This is not a criticism of our faithful, just a statement of the fact that there has not been an abundance of priestly vocations coming from Canada.
At the beginning of 2015 Fr. Iurii Tychenok and his wife Maria and their two sons arrived from Lviv and have been assigned to our parish in Prince George.  Fr. Iurii has been a priest for several years, serving in a large parish in the city of Lviv.  When he heard about our pastoral needs in our most Northern parish, he came out to visit us and see our Eparchy and discern with me if he had a vocation to serve in our Eparchy.  We spent several weeks together, in our Eparchy traveling to Prince George and meeting with our parishioners there and talking with our Eparchial clergy and their families both about the challenges and yes rewards of living in British Columbia.  Fr. Iurii went home to Lviv and soon afterwards I received word that his wife and two sons were eager to join our pastoral team.  On 1 January 2015 he was installed as our priest in Prince George.  I know that our faithful have been very enthusiastic about him and we have seen our little parish grow in the short time he has been there.
Our second priest that came to us last year, is Fr. Stepan Dovhoshyia.    In May of 2015, I met with Stepan and his wife Yulyia when I was in Ukraine for meetings and we talked about the pastoral needs in our Eparchy.  Stepan, who is from the city of Ternopil and had just completed his studies and formation for the priesthood at Holy Spirit Seminary in Lviv agreed to come to British Columbia for a few weeks in the summer and like Fr. Tychenok, discern with me if he had a vocation to serve as a priest in our Eparchy.  Stepan had an opportunity to meet many of our faithful and visit several of our parishes.  He worked with our seminarian Mykhailo with our children's day camp in Surrey, our Altar server day camp at Holy Eucharist Cathedral and also participated in our summer Bible Study program for teens and young adults.  He was ordained a subdeacon at our parish in Richmond and a deacon in our Cathedral in New Westminster and at the end of July returned to Ternopil.  He and his wife with their little son Lucas began to prepare themselves to join us in Canada, and I was privileged to participate in that preparation when I ordained him to the priesthood on August 28th, in his home parish in Ternopil where his father is the pastor.  He and his family arrived just before Thanksgiving to New Westminster.  Fr. Stepan began a rather intense period of pastoral internship under the guidance of Fr. Yuriy Vyshnevskyy, Fr. Richard Soo, sj, and Fr. Chornenkyy to prepare him to become the parish priest at our Cathedral in mid January of this year after the transfer of Fr. Yuriy  to our parish in Victoria.
To ensure that we have good and holy qualified clergy to serve our Eparchy we need to support them, and when we recruit them from abroad we have to assist them with their travel and relocation costs.  I also believe that it is proper to reimburse some of their education costs since we are the beneficiaries of their seminary studies.  Our Eparchy is committed to providing effective and good pastoral care.
Please help me as your bishop through our clergy to evangelize and provide you with great pastoral care.  If you have already contributed, please consider adding to your donation again this year, if you have not yet donated, please be generous.
I look forward to writing to you soon with more good news about our Eparchial Fundraising Campaign.
With prayerful best wishes and assurance of my Episcopal blessings, I remain,
Sincerely yours in the Lord,
+Ken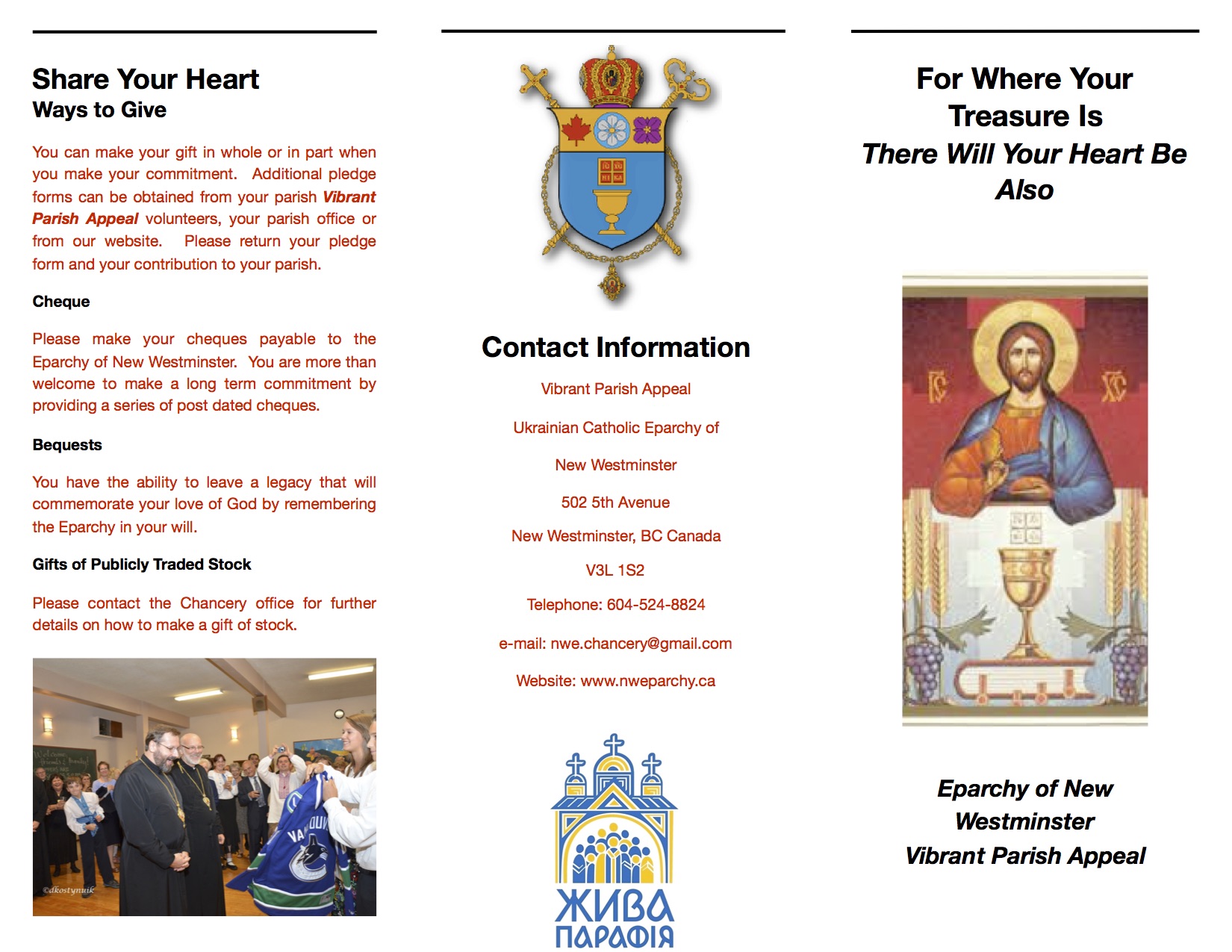 __________________________________________________________________________